Front Cover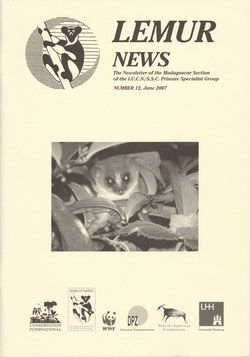 See both images below
Lemur News
The Newsletter of the Madagascar Section of the IUCN/SSC Primate Specialist Group: Number 12: June 2007
IUCN/SSC Primate Specialist Group (2007).
Stapled Booklet

The 12th issue of "Lemur News", the annual newsletter of the Madagascar Section of the IUCN/SSC Primate Specialist Group. This issue includes 15 articles (2 in French; 13 in English).
Contents
Table of Contents
Editorial
Erratum
News and Announcements
Articles

Lemur diversity: A recent efflorescence of species
(Anthony B. Rylands)
Morphometric data for Indri (Indri indri) collected from ten forest fragments in eastern Madagascar
(John R. Zaonarivelo, Rambinintsoa Andriantompohavana, Shannon E. Engberg, Stephanie G. Kelley, Jean-Claude Randriamanana, Edward E. Louis Jr., Rick A. Brenneman)
Morphological characterization of a population of Sambirano woolly lemur (Avahi unicolor) from the Anaborano Forest in northwestern Madagascar
(John R. Zaonarivelo, Rambinintsoa Andriantompohavana, Richard Rakotonomenjanahary, Justin Andrianasolo, Rick A. Brenneman, Edward E. Louis Jr.)
Rapid survey of white-collared brown lemurs (Eulemur albocollaris) in three forest fragments in southeastern Madagascar
(Hobinjatovo Tokiniaina, John R. Zaonarivelo, Ralainasolo Fidimalala B., Rambinintsoa Andriantompohavana, Randriamanana Jean Claude, Rick A. Brenneman, Edward E. Louis Jr.)
Preliminary lemur survey of Andavakoera Classified Forest and regional forest fragments of Madagascar
(John R. Zaonarivelo, Rambinintsoa Andriantompohavana, Andriamahery Razafindrakoto, Justin Andrianasolo, Serge Rajaobelina, Rick A. Brenneman, Sébastien Wohlhauser, Edward E. Louis, Jr.)
Forest fragment and range survey of the Ambararata-Maromokotra Loky River Locale of northeastern Madagascar for Goldencrowned Sifaka (Propithecus tattersalli)
(Andriamahery Razafindrakoto, Rambinintsoa Andriantompohavana, Sebastian Wohlhauser, Serge Rajaobelina, Edward E. Louis, Jr., Rick A. Brenneman)
Variation de la distribution de deux espèces de microcèbes dans le Park National Ankarafantsika [Variation in the distribution of two species of Microcebus in Ankarafantsika National Park]
(Romule Rakotondravony, Ute Radespiel)
Lemur records at priority sites for plant conservation
(Chris Birkinshaw, Andriamandranto Ravoahangy, Hubert E. Andriamaharoa)
Lemur survey of the Andranomanitsy Forest, Region of Besalampy, Province of Mahajanga
(Jose M. Ralison)
Non-maternal infant care in wild Silky Sifakas (Propithecus candidus)
(Erik R Patel)
Research experience in Vohibasia Forest, southwestern Madagascar
(Shane R. Siers)
A brief lemur survey of the Ranomafana Andringitra corridor region in Tolongoina, Southeast Madagascar
(Anja M. Deppe, Misa Randriamiarisoa, Kai Schütte, Patricia C. Wright)
Cytogenetics and taxonomy of the genus Hapalemur
(Clément Rabarivola, Prosper Prosper, Alphonse Zaramody, Nicole Andriaholinirina, Marcel Hauwy)
Le bloc forestier de Makira charnière de Lémuriens
(David Rasolofoson, Gilbert Rakotondratsimba, Odon Rakotonirainy, Tovonanahary Rasolofoharivelo, Lucien Rakotozafy, Jonah Ratsimbazafy, Felix Ratelolahy, Valina Andriamaholy, Augustin Sarovy)
Disputed taxonomy classification of sportive lemurs (Lepilemur) in NW Madagascar
(Dietmar Zinner, Christian Roos, Jean-Luc Fausser, Colin Groves, Yves Rumpler)

Funding and Training
Recent Publications
Instructions for Contributors
Table of Contents
Notes
Cover photo Microcebus sp from Andasibe by Ute Meede.
ISSN 1608-1439 continues ISSN 0343-3528.
Condition of Item
Very Good

Refer to the glossary for definitions of terms used to describe the condition of items.
Categories
BUY FROM AMAZON.COM
Browse 100s More Titles in our Madagascar Book Store