First Page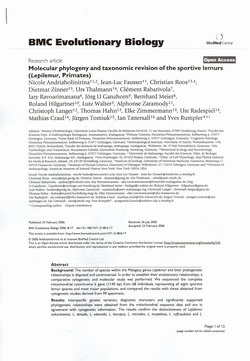 Authors: Nicole Andriaholinirina, Jean-Luc Fausser, Christian Roos, Dietmar Zinner, and Urs Thalmann.
Additional Contributors: Clément Rabarivola, Iary Ravoarimanana, Jörg U. Ganzhorn, Bernhard Meier, Roland Hilgartner, Lutz Walter, Alphonse Zaramody, Christoph Langer, Thomas Hahn, and Elke Zimmermann.
Print ISSN:
1471-2148
Language: English
No. of Pages: 13
DOI: 10.1186/1471-2148-6-17
---
Item Identification Code (UID#): 446
Shelving Location:
Papers & Articles: Natural History: Mammalogy
Purchase Date: 23 June 2006
Purchased From: Log In to view this
Price Paid: Log In to view this
Molecular phylogeny and taxonomic revision of the sportive lemurs (Lepilemur, Primates)
Research Article
BMC Evolutionary Biology 6: pp. 1-13.
BioMed Central (2006).
Stapled Printout

Paper revising the classification of Madagascar's sportive lemurs of the Lepilemur genus. Three new species are proposed: L. aeeclis, L. randrianasoli, and L. sahamalazensis.
Abstract
Background: The number of species within the Malagasy genus Lepilemur and their phylogenetic relationships is disputed and controversial. In order to establish their evolutionary relationships, a comparative cytogenetic and molecular study was performed. We sequenced the complete mitochondrial cytochrome b gene (1140 bp) from 68 individuals representing all eight sportive lemur species and most major populations, and compared the results with those obtained from cytogenetic studies derived from 99 specimens.

Results: Interspecific genetic variation, diagnostic characters and significantly supported phylogenetic relationships were obtained from the mitochondrial sequence data and are in agreement with cytogenetic information. The results confirm the distinctiveness of Lepilemur ankaranensis, L. dorsalis, L. edwardsi, L. leucopus, L. microdon, L. mustelinus, L. ruficaudatus and L. septentrionalis on species level. Additionally, within L. ruficaudatus large genetic differences were observed among different geographic populations. L. dorsalis from Sahamalaza Peninsula and from the Ambanja/Nosy Be region are paraphyletic, with the latter forming a sister group to L. ankaranensis.

Conclusion: Our results support the classification of the eight major sportive lemur taxa as independent species. Moreover, our data indicate further cryptic speciation events within L. ruficaudatus and L. dorsalis. Based on molecular data we propose to recognize the sportive lemur populations from north of the Tsiribihina River, south of the Betsiboka River, and from the Sahamalaza Peninsula, as distinct species.
Notes
Complete author list: Nicole Andriaholinirina, Jean-Luc Fausser, Christian Roos, Dietmar Zinner, Urs Thalmann, Clément Rabarivola, Iary Ravoarimanana, Jörg U Ganzhorn, Bernhard Meier, Roland Hilgartner, Lutz Walter, Alphonse Zaramody, Christoph Langer, Thomas Hahn, Elke Zimmermann, Ute Radespiel, Mathias Craul, Jürgen Tomiuk, Ian Tattersall, and Yves Rumpler
Article received by journal: 26 July 2005
Article acepted by journal: 23 February 2006
Published online: 23 February 2006
Categories
BUY FROM AMAZON.COM
Browse 100s More Titles in our Madagascar Book Store