Front Cover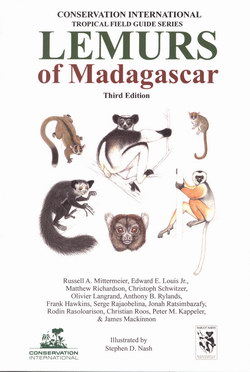 See both images below
Authors: Russell A. Mittermeier, Edward E. Louis, Matthew Richardson, Christoph Schwitzer, and Olivier M. Langrand.
Foreword by: Russell A. Mittermeier.
Illustrators: Stephen D. Nash and Paula K. Rylands.
Additional Contributors: Anthony B. Rylands, Frank Hawkins, Serge Rajaobelina, Rodin Rasoloarison, Christian Roos, Peter Kappeler, Jonah Ratsimbazafy, and James MacKinnon.
ISBN-10: 1-934151-23-8 (1934151238)
ISBN-13: 978-1-934151-23-5 (9781934151235)
Language: English
No. of Pages: 765
---
Item Identification Code (UID#): 1818
Shelving Location:
Natural History: Fauna
Estimated Value: £35.00
Purchased From: Log In to view this
Price Paid: Log In to view this
Lemurs of Madagascar
Third Edition
(Conservation International Tropical Field Guide Series)
Conservation International (2010). (First Published 1994)
Softcover Book
Text from the Back Cover
One of the three most diverse primate faunas on Earth, and certainly the most unusual. Five families, 15 genera, and 101 distinct taxa, all of them endemic to the island of Madagascar. Not only is Madagascar incredibly important for primates, it is also one of the world's highest priority biodiversity hotspots. It has already lost more than 90% of its original natural vegetation, and it has the highest levels of endemism at the species, genus, and family levels of any hotspot on Earth, conserving not just unique species but entire evolutionary lineages. By providing this guide to facilitate the identification of Madagascar's best known flagship species, we hope to stimulate interest in this "island continent" and encourage everyone concerned about our natural world to visit this very special place.

In this guide we discuss the origins, discovery, study, and conservation of Madagascar's lemur fauna, and profile the country's 101 species and subspecies. What is particularly exciting is that we continue to discover species of lemurs previously unknown to science. Sixteen years ago, at the time of the 1st edition of this guide. we recognized only 50 different kinds of lemurs, but 43 lemur species and subspecies have been described since then, and we here recognize a Further eight as a result of our improved understanding of their systematics and geographic ranges. We expect that other lemurs will continue to be described in years to come.

The guide is illustrated with 539 drawings, photos, and maps to assist in field identification. We also introduce the concept of primate-watching and primate life-listing to encourage all of you interested in primates to see as many of these wonderful animals as possible in the wild and to help conserve them in their natural habitats. You, the reader, whether scientist. primate-watcher, budding naturalist, adventure traveler, or casual visitor to Madagascar, are making a very significant contribution to the future of biodiversity in this amazing corner of our planet. We hope that this guide will enhance your experience and convince you to visit this "Land of Lemurs" again and again.
About the Authors
Russell A. Mittermeier
Russell Mittermeier has been President of Conservation International (CI) since 1989, is currently a Vice-President of the International Union for Conservation of Nature (IUCN), and has served as Chairman of IUCN's Species Survival Commission (IUCN/SSC) Primate Specialist Group since 1977. Prior to joining CI, he was Vice-President for Science at World Wildlife Fund-US. A primatologist and herpetologist by training, Dr. Mittermeier's publications include 20 books and over 570 articles, and he has conducted fieldwork on three continents and in more than 20 countries. He received his PhD in Biological Anthropology from Harvard University in 1977.

Edward E. Louis Jr.
Ed Louis has been the Director of the Conservation Genetics Department for Omaha's Henry Doorly Zoo Grewcock Center for Conservation and Research for the past 14 years. He has carried out extensive fieldwork in Madagascar since 1998, developing baseline molecular, distribution, and census data on its lemurs, boas, tortoises, geckos, amphibians, and orchids. He received his DVM and PhD in Genetics from Texas A&M University in 1994 and 1996, respectively.

Matthew Richardson
Matt Richardson is a freelance author, historian and primatologist from Toronto, Canada. A member of the IUCN/SSC Primate Specialist Group, he works closely with scientists and conservation NGOs the world over on academic publications and research.

Christoph Schwitzer
Christoph Schwitzer received his PhD in Zoology from the University of Cologne, where he studied the nutritional ecology of lemurs. He was part of the primatological research group at Cologne Zoo before becoming Programme Coordinator for the Association Européenne pour l'Etude et la Conservation des Lémuriens (AEECL) in Madagascar, where he established a field research and conservation programme. He has been Head of Research at Bristol Zoo Gardens since 2006, and Executive Secretary of AEECL since 2007.

Olivier Langrand
Olivier Langrand is Senior Vice President for International Government Relations at Conservation International. He holds a Master of Science in Zoology from the University of Natal, South Africa, and has 25 years of experience in the design and implementation of field research and tropical forest conservation programs. He is also an expert on the birds of the southwestern Indian Ocean islands, and the author of more than 80 scientific papers and four books on the biodiversity of the Africa/Madagascar region. Olivier lived in Madagascar for 12 years, and was awarded the Order of National Merit in 1997 by the President of Madagascar for his outstanding contributions to biodiversity conservation.

Anthony B. Rylands
Anthony Rylands began his career in 1976 studying primates at the National Institute for Amazon Research (INPA), Manaus, Brazil. He received his PhD from the University of Cambridge in 1982, and from 1986 to 2005 was Professor of Vertebrate Zoology at the Federal University of Minas Gerais in Brazil. Rylands is a member of the Brazilian Academy of Sciences, and Deputy Chair of the IUCN/SSC Primate Specialist Group. He has authored and edited more than 220 articles, books and reports on primate ecology, behavior, taxonomy, biogeography and conservation. He is currently a Senior Research Scientist at Conservation International.

Frank Hawkins
Frank Hawkins is Vice-President for the Africa/ Madagascar program at Conservation International. He lived in Madagascar for nearly 20 years, working on conservation projects and researching birds, primates, and carnivores. He completed a PhD on the conservation of western Malagasy birds in 1994.

Serge Rajaobelina
Serge Rajaobelina is the President of Fanamby, a Malagasy non-governmental environmental organization that he founded in 1997. Prior to that, he served as Assistant Program Officer for the World Wildlife Fund-US Madagascar Program from 1988-89, and then as Conservation International's Program Officer for Madagascar (1989-1994) and its Madagascar Program Director (1995-1996).

Rodin Rasoloarison
Rodin Rasoloarison obtained his PhD from the University of Antananarivo in 2000 for his taxonomic revision of Madagascar's mouse lemurs (Microcebus). He has since continued to study the taxonomy and biogeography of cheirogaleids in the field and in museum collections around the world. He is a research coordinator for the German Primate Center (DPZ).

Christian Roos
Christian Roos is a geneticist at the German Primate Center (DPZ) and Deputy Regional Coordinator of the Southeast Asian section of the IUCN/SSC Primate Specialist Group. He studies the phylogeny, phylogeography and population genetic structure of various primate groups. Although working mainly on Asian primates, he has performed several molecular studies on Malagasy lemurs, including indriids, cheirogaleids and lepilemurids. He received his PhD in Biology from the Technical University of Munich in 2003.

Peter Kappeler
Peter Kappeler is Professor of Sociobiology and Anthropology at the University of Göttingen, Germany and Director of the Kirindy Forest Research Station of the German Primate Center (DPZ), where he has been studying lemur behavior and ecology since 1988. He has served as President of the German Primate Society and the European Federation for Primatology, and as Vice President for Research of the International Primatological Society. He received his PhD in Zoology from Duke University in 1992.

Jonah Ratsimbazafy
Jonah Ratsimbazafy received his PhD in Physical Anthropology from the State University of New York at Stony Brook in 2002, with a study of black-and-white ruffed lemurs in Madagascar's Manombo forests. He is presently the Training and Conservation Coordinator for the Durrell Madagascar Programme, and an Adjunct Associate Professor in the Department of Paleontology and Anthropology at the University of Antananarivo.

James MacKinnon
James MacKinnon is Senior Technical Director of Conservation International in Madagascar. He has lived in Madagascar for 11 years working on conservation and conducting field research on fruit-bats. He spent 6 years as an advisor to Madagascar National Parks and has been closely involved in the efforts to expand the country's protected area network. He received his PhD in Zoology from the University of Aberdeen in 1998.

Stephen D. Nash
A native of Great Britain and a graduate of the Natural History Illustration Department of the Royal College of Art in London, Stephen Nash has been Scientific Illustrator for Conservation International since 1989, producing images for conservation education and biological publications. Prior to this, he was part of the World Wildlife Fund-US Primate Program. Based at the State University of New York at Stony Brook, he is a Visiting Research Associate in the Department of Anatomical Sciences and an Adjunct Associate Professor in the Department of Art.

Paula K. Rylands
Paula K. Rylands is the Photo and Graphic Design Coordinator for the President's Office of Conservation International. She has a BA in Social and Cultural Anthropology from the University of Maryland and has studied art and design in England. Originally from Brazil, she has done fieldwork on African diaspora in the rural areas of Minas Gerais, is an amateur photographer, and works with video production.
List of Additional Contributors
Michel Andriambololona, Nicole Volasoa Andriaholinirina, Matthew Banks, Frederick Boltz, Maarten de Wit, Rainer Dolch, Joanna Durbin, Anna T. C. Feistner, Rollande Finoana, Jörg U. Ganzhorn, Nick Garbutt, Fabian Génin, Martine Girard-Lanchec, Laurie Godfrey, Christopher Golden, Steven M. Goodman, Linn Fenna Groeneveld, Colin P. Groves, Andreas Hapke, Michael Hoffman, Steig E. Johnson, Alison Jolly, William L. Jungers, William R. Konstant, David W. Krause, Richard Lewis, Robert D. Martin, Roderic B. Mast, Mireya Mayor, David Meyers, Erik Patel, James Patterson, Ingrid J. Porton, Joyce Powzyk, Clement Joseph Rabarivola, Julien Rabesoa, Ute Radespiel, Olivier Rahanitriniaina, Marlène Rakotomalala, Noro Raminosoa, Fabi Randrianarisoa, Hanta Rasamimanana, Aimé Rasamison, Tovo Rasolofoharivelo, Rabarison Rasolonirina, Felix Ratelolahy, Besoa Ratsisakanana, Gisèle Raveloarinoro, Angelin Razafimanantsoa, Marie Razafindrasolo, Yves Rumpler, Derek Schuurman, Takayo Soma, Viviana Sorrentino, Eleanor Sterling, Ian Tattersall, Urs Thalmann, Astrid Vargas, Nathalie Vasey, Lynne Villers, Lucienne Wilmé, Sébastien Wohlhauser, Patricia C. Wright, John R. Zaonarivelo
Contents
Introduction
How to Use This Field Guide
Chapter 1: Madagascar's Ancient Geological History
Chapter 2: Origin of the Lemurs
Chapter 3: The Extinct Lemurs
Chapter 4: Discovery and Study of the Living Lemurs
Chapter 5: Conservation of Lemurs
Chapter 6: The Living Lemurs
Chapter 7: Family Cheirogaleidae

Microcebus: Mouse Lemurs

Microcebus murinus, Gray Mouse Lemur
Microcebus griseorufus, Gray-brown Mouse Lemur
Microcebus berthae, Madame Berthe's Mouse Lemur
Microcebus myoxinus, Peters' Mouse Lemur
Microcebus ravelobensis, Golden-brown Mouse Lemur
Microcebus bongolavensis, Bongolava Mouse Lemur
Microcebus danfossi, Ambarijeby Mouse Lemur
Microcebus margotmarshae, Margot Marsh's Mouse Lemur
Microcebus sambiranensis, Sambirano Mouse Lemur
Microcebus mamiratra, Nosy Be Mouse Lemur
Microcebus tavaratra, Tavaratra Mouse Lemur
Microcebus arnholdi, Montagne d'Ambre Mouse Lemur
Microcebus rufus, Rufous Mouse Lemur
Microcebus jollyae, Jolly's Mouse Lemur
Microcebus lehilahytsara, Goodman's Mouse Lemur
Microcebus simmonsi, Simmons' Mouse Lemur
Microcebus macarthurii, Anjiahely Mouse Lemur
Microcebus mittermeieri, Mittermeier's Mouse Lemur

Mirza: Giant Mouse Lemurs

Mirza coquereli, Coquerel's Giant Mouse Lemur
Mirza zaza, Northern Giant Mouse Lemur

Allocebus: Hairy-Eared Dwarf Lemur

Allocebus trichotis, Hairy-eared Dwarf Lemur

Cheirogaleus: Dwarf Lemurs

Cheirogaleus medius, Fat-tailed Dwarf Lemur
Cheirogaleus sibreei, Sibree's Dwarf Lemur
Cheirogaleus major, Greater Dwarf Lemur
Cheirogaleus crossleyi, Crossley's Dwarf Lemur
Cheirogaleus minusculus, Lesser Iron-gray Dwarf Lemur

Phaner: Fork-marked Lemurs

Phaner furcifer, Masoala Fork-marked Lemur
Phaner pallescens, Pale Fork-marked Lemur
Phaner parienti, Sambirano Fork-marked Lemur
Phaner electromontis, Montagne d'Ambre Fork-marked Lemur

Chapter 8: Family Lepilemuridae

Lepilemur: Sportive Lemurs

Lepilemur mustelinus, Weasel Sportive Lemur
Lepilemur betsileo, Betsileo Sportive Lemur
Lepilemur microdon, Small-toothed Sportive Lemur
Lepilemur jamesorum, Manombo Sportive Lemur
Lepilemur wrightae, Wright's Sportive Lemur
Lepilemur fleuretae, Andohahela Sportive Lemur
Lepilemur hollandorum, Mananara-Nord Sportive Lemur
Lepilemur seali, Seal's Sportive Lemur
Lepilemur scottorum, Masoala Sportive Lemur
Lepilemur milanoii, Daraina Sportive Lemur
Lepilemur ankaranensis, Ankarana Sportive Lemur
Lepilemur septentrionalis, Sahafary Sportive Lemur
Lepilemur dorsalis, Gray's Sportive Lemur
Lepilemur tymerlachsonorum, Nosy Be Sportive Lemur
Lepilemur mittermeieri, Mittermeier's Sportive Lemur
Lepilemur sahamalazensis, Sahamalaza Sportive Lemur
Lepilemur grewcockorum, Anjiamangirana Sportive Lemur
Lepilemur otto, Ambodimahabibo Sportive Lemur
Lepilemur edwardsi, Milne-Edwards' Sportive Lemur
Lepilemur aeeclis, Antafia Sportive Lemur
Lepilemur ahmansonorum, Tsiombikibo Sportive Lemur
Lepilemur randrianasoloi, Bemaraha Sportive Lemur
Lepilemur ruficaudatus, Red-tailed Sportive Lemur
Lepilemur hubbardorum, Zombitse Sportive Lemur
Lepilemur petteri, Petter's Sportive Lemur
Lepilemur leucopus, White-footed Sportive Lemur

Chapter 9: Family Lemuridae

Hapalemur: Bamboo or Gentle Lemurs

Hapalemur griseus griseus, Gray Bamboo Lemur
Hapalemur griseus gilberti, Beanamalao Bamboo Lemur
Hapalemur griseus ranomafanensis, Ranomafana Bamboo Lemur
Hapalemur meridionalis, Southern Bamboo Lemur
Hapalemur occidentalis, Northern Bamboo Lemur
Hapalemur alaotrensis, Lac Alaotra Bamboo Lemur
Hapalemur aureus, Golden Bamboo Lemur

Prolemur: Greater Bamboo Lemur

Prolemur simus, Greater Bamboo Lemur

Lemur: Ring-tailed Lemur

Lemur catta, Ring-tailed Lemur

Eulemur: True Lemurs

Eulemur fulvus, Brown Lemur
Eulemur rufus, Rufous Brown Lemur
Eulemur rufifrons, Red-fronted Brown Lemur
Eulemur albifrons, White-fronted Brown Lemur
Eulemur sanfordi, Sanford's Brown Lemur
Eulemur cinereiceps, White-collared Brown Lemur
Eulemur collaris, Red-collared Brown Lemur
Eulemur macaco, Black Lemur
Eulemur flavifrons, Blue-eyed Black Lemur
Eulemur coronatus, Crowned Lemur
Eulemur rubriventer, Red-bellied Lemttr
Eulemur mongoz, Mongoose Lemur

Varecia: Ruffed Lemurs

Varecia variegata variegata, Variegated Black-and-White Ruffed Lemur
Varecia variegata editorum, Southern Black-and-White Ruffed Lemur
Varecia variegata subcincta, Northern Black-and-White Ruffed Lemur
Varecia rubra, Red Ruffed Lemur

Chapter 10: Family Indriidae

Avahi: WoollyLemurs

Avahi laniger, Eastern Woolly Lemur
Avahi mooreorum, Masoala Woolly Lemur
Avahi peyrierasi, Peyrieras' Woolly Lemur
Avahi betsileo, Betsileo Woolly Lemur
Avahi ramanantsoavanai, Manombo Woolly Lemur
Avahi meridionalis, Southern Woolly Lemur
Avahi occidentalis, Western Woolly Lemur
Avahi cleesei, Bemaraha Woolly Lemur
Avahi unicolor, Sambirano Woolly Lemur

Propithecus: Sifakas or Simponas

Propithecus verreauxi, Verreaux's Sifaka
Propithecus deckenii, Decken's Sifaka
Propithecus coronatus, Crowned Sifaka
Propithecus coquereli, Coquerel's Sifaka
Propithecus tattersalli, Tattersall's Sifaka
Propithecus diadema, Diademed Sifaka
Propithecus edwardsi, Milne-Edwards' Sifaka
Propithecus candidus, Silky Sifaka
Propithecus perrieri, Perrier's Sifaka

Indri: Indri or Babakoto

Chapter 11: Family Daubentoniidae

Daubentonia:Aye-aye

Daubentonia madagascariensis, Aye-aye

Appendix A: Maps of Madagascar

Topography
Principal Cities and Towns
Principal Rivers
Madagascar's National Parks
Madagascar's Special Reserves and Strict Nature Reserves

Appendix B: Biogeographic Regions and Floristic Domains of Madagascar
Appendix C: Key Lemur-watching Sites in Madagascar
Appendix D: Primate-watching and Primate Life-listing
References.
Lemur Life-List
Requests for Information
Condition of Item
Fine.

Refer to the glossary for definitions of terms used to describe the condition of items.
Categories
Acknowledgement
This item was kindly donated to the Madagascar Library collection by Conservation International.
BUY FROM AMAZON.COM
Browse 100s More Titles in our Madagascar Book Store